Cleaning company in DUBAI
When would you like us to come
Book your Appointment now!
Put down the sponge/duster and have someone professional & trustworthy make your living or working space spic-n-span. You save the energy and time to spend on something that is more fulfilling and that contributes to your mission in life. We give you a money-back guarantee for the service.
Booking an Alo Maids means indirectly contributing the below United Nations' Sustainable Development Goals.
Alo Maids Cleaning Services was established on January 09, 2013, in response to a widespread practice in UAE (during 2008-2012) where cleaning workers were barely paid salaries of AED400 to AED800 dirhams a month and were not allowed holidays for years or until they would complete their labor contract period. There was no concept of medical insurance or over time. Most of the cleaners we interviewed worked minimum 10hrs a day and without any over time. The company is run on the principles of social entrepreneurship and believes in the responsibility of businesses to address world's social, economic and environmental problems.
Since Alo Maids pays its cleaners among the highest compensation packages in the UAE cleaning sector, it goes without saying that our employees are highly driven to provide excellent service. We pick and choose only the most skilled professionals in the area who are also needy, reliable, and hardworking. Our staff is dependable and can do their job without supervision as all members are hired after a complete background and references check.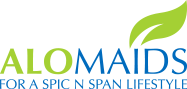 AloMaids is the leading cleaning company in Dubai. Book your appointment with us today. We guarantee 100% satisfaction.